Our Laboratory Equipment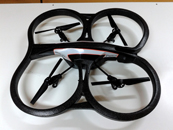 Parrot AR. Drone 2.0
A quadcopter equipped with a HD camera (720p, 30fps), powered by four brushless motors (14.5 W, 28500 RMP), and controlled by a 1 GHz, 32 bit, ARM Cortex A8 processor. It includes, among other sensors, a 3 axis gyroscope, a 3 axis accelerometer, a 3 axis magnetometer, and ultrasound sensors.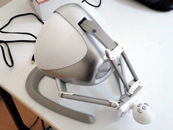 Novint Falcon Haptic Device
A haptic robotic mechanism that allows the user to feel forces in a virtual environment. Equipped with three DC motors, exhibits forces up to 8.5 N, in a workspace of about 10 cm ´ 10 cm ´ 10 cm, with a position resolution of 400 dpi.

Pioneer P3-DX
Two differential drive mobile robots with front SONAR, wheel encoders, a microcontroller (32 digital inputs, 8 digital outputs, 7 analog inputs, and 3 serial expansion ports), and the Pioneer SDK mobile robotics software development package. Additionally, each robot comes with a color camera, and a Laser Mapping & Navigation accessory package.

PeopleBot
A differential-drive robotic platform designed for service and human-interface projects. It comes with bumper elements, lower and upper SONAR arrays, and IR break beams to detect objects between the platform and the robot. With the Laser Mapping & Navigation System and the appropriate software, PeopleBot can map buildings and localize while traveling within mapped areas.